Volunteer Activity & Community Support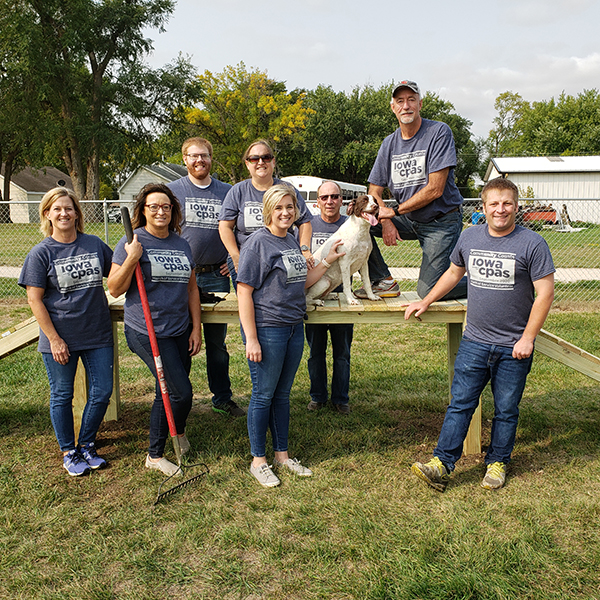 Each September Williams & Company participates in the Iowa Society of certified Public Accountants Month of Service. Today the Estherville office volunteered for the City of Estherville by helping them complete projects in their dog park. Together they built an obstacle course out of wooden posts & a table/ramp for dogs to play on!
Next up—our Yankton office. Our Yankton office volunteered at United Way's clothing closet. It is a non profit that has clothing drives to obtain gently used clothes for people in need to come & shop for free.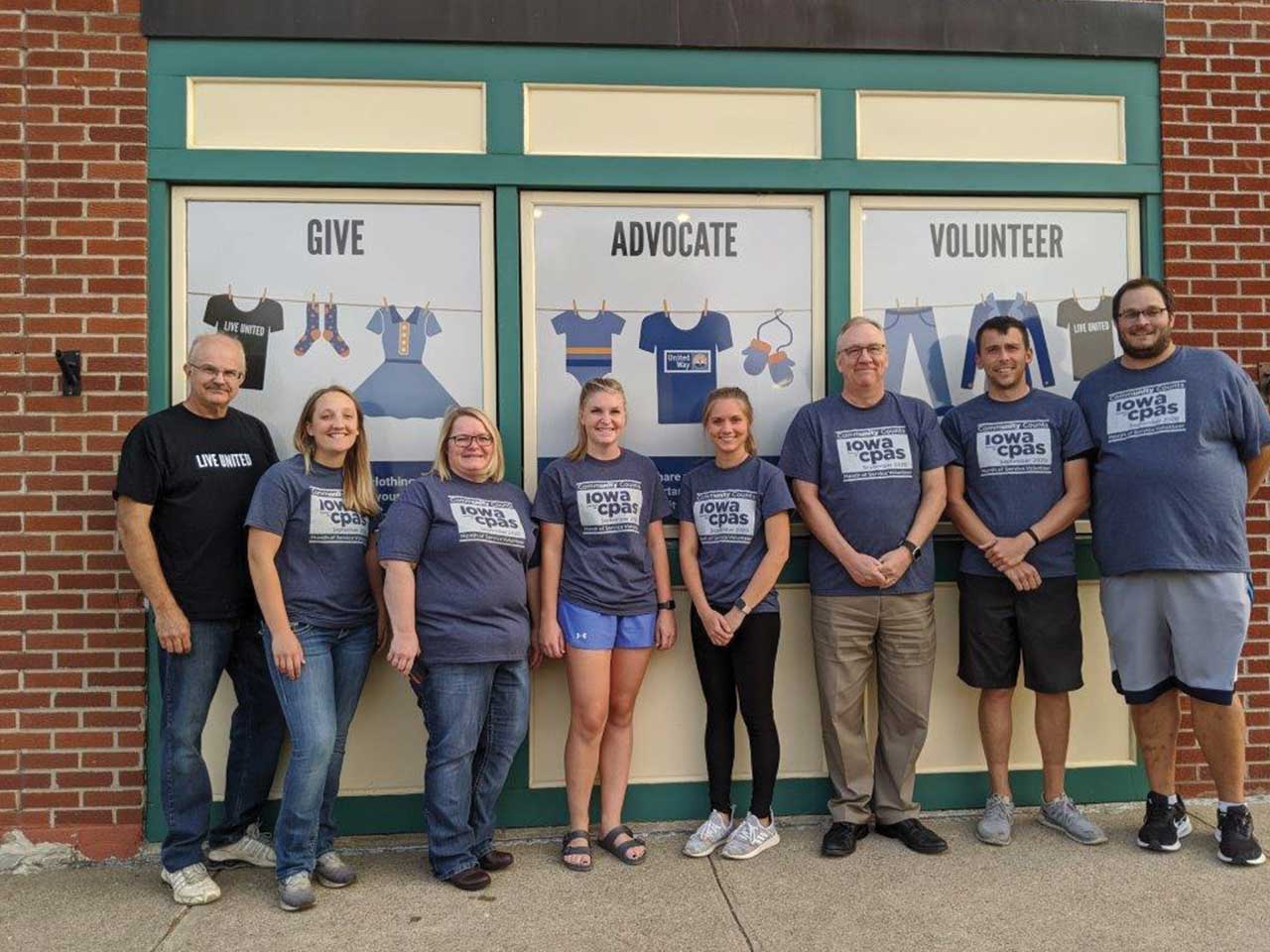 Month of Service - Clay County Fair
Everyone from the Spencer office participated in the event. All funds from the sales of Nutty Bars, food, and drinks were donated to YMCA and Kiwanis.
Month of Service - Read to Succeed
Jackie from the Onawa office handed out books at Magic Depot Childcare Center on behalf of Read to Succeed. The children were very excited to pick out a new book!
Month of Service – Sheldon office
For the 4th annual Iowa CPA Month of Service, the Sheldon office volunteered throughout the community in a variety of ways.
Aaron, Chase, Malorie and Tamra helped Love In the Name of Christ (Love, Inc.), a local nonprofit organization, load and deliver furniture to multiple families in the Sheldon area. They also did light maintenance in helping clean and re-paint some areas on their building and helped with some office items in getting a mass mailing ready to go.
Aaron and Jolynn helped with various projects during the Sheldon Celebration Days activities held annually over the Labor Day weekend. Aaron helped with the setup of information tents for the local Chamber and a food tent for the Knights of Columbus. Jolynn helped with one of the ticket booths for the day selling tickets for the various rides and activities held in the City Park that day.
On September 23rd Aaron also helped with the American Legion in his hometown of Merrill, IA with their pancake breakfast, assisting with the setup and cleanup of the facility and with helping sell raffle tickets for their upcoming fundraising event in November.
Month of Service - Nursing home residents move to new facility
Our Onawa office took time to help move resident's belongings to a new nursing home facility at Methodist Manor Retirement Community in Storm Lake IA. Our staff had a great time visiting with the residents, their families, and the nursing home staff.
Month of Service - Le Mars School
Le Mars staff got their hands dirty by helping clean up the playground near Kluckhohn Elementary School.
Sioux City Administrative Staff helped repackage food for the Backpack Program at the Food Bank of Siouxland.
Month of Service - Backpack meal event
The Le Mars staff had a rewarding experience packing backpacks with food for children in need.
Our Yankton Office assisted with the setup of the United Way Human Foosball tournament held on September 8th. United Way raised approximately $8,000 at this event. The proceeds supplement their annual campaign and fund existing needs in the community in the sectors of health, education and financial stability. Click here to find out more about the United Way and Volunteer Services of Greater Yankton.
Volunteers included: Matt Malloy, Kyler Johnson, Amanda Steiner, Chelsea Wentz, Lexie Hauger, Natalie Kleensang, Angie Jere & daughter, Michelle Folkers and son, and Shauna Kauth.
On August 24th our Le Mars office completed a food drive which provided staff the opportunity to wear jeans in exchange for a food donation. The food went to Christian Needs Center in Le Mars. This is the second food drive our Le Mars office has completed this summer.
Our Yankton office participated in the United Way's Day of Caring on June 23, 2018. Shauna, Chelsea, Matt, Angie and her daughters Jade & Maya helped Food For Thought with their Summer Sack Pack program by cleaning up the packing area, washing out the delivery totes and packing over 200 food packs for kids participating in the summer food service program at Yankton Schools. They had a great time knowing that they were able to help others in our community.
Our Onawa office sponsored and volunteered in RAGBRAI XLVI on July 20, 2018! Our staff set up trash cans for the entire community. After a hard day of work, our team had some fun by taking fun RAGBRAI photos.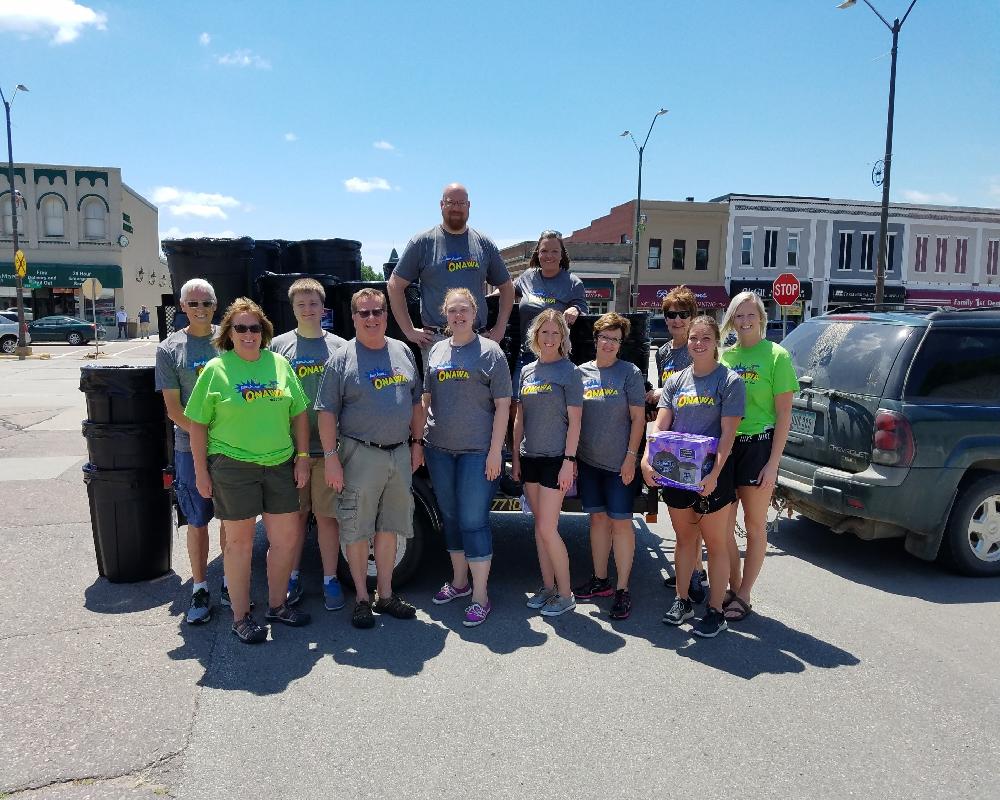 Williams & Company was presented with the Iowa Society of CPAs (ISCPA) Month of Service Community Spirit Award. The award recognizes a team for exemplary dedication across their community through commitment of time and resources during the Iowa CPAs Month of Service event held annually in September. Wes Simpson and Aaron Prewitt accepted the award on behalf of the firm at the ISCPA Leadership Conference and Annual Meeting in May. Click here for more about what our company did to earn this award.
Spencer High School had their Annual Scholarship Ceremony on March 18, 2018. Wes Simpson in our Spencer office was there to present Morgan Roberts with the Williams & Company, P.C. Scholarship. Congratulations Morgan!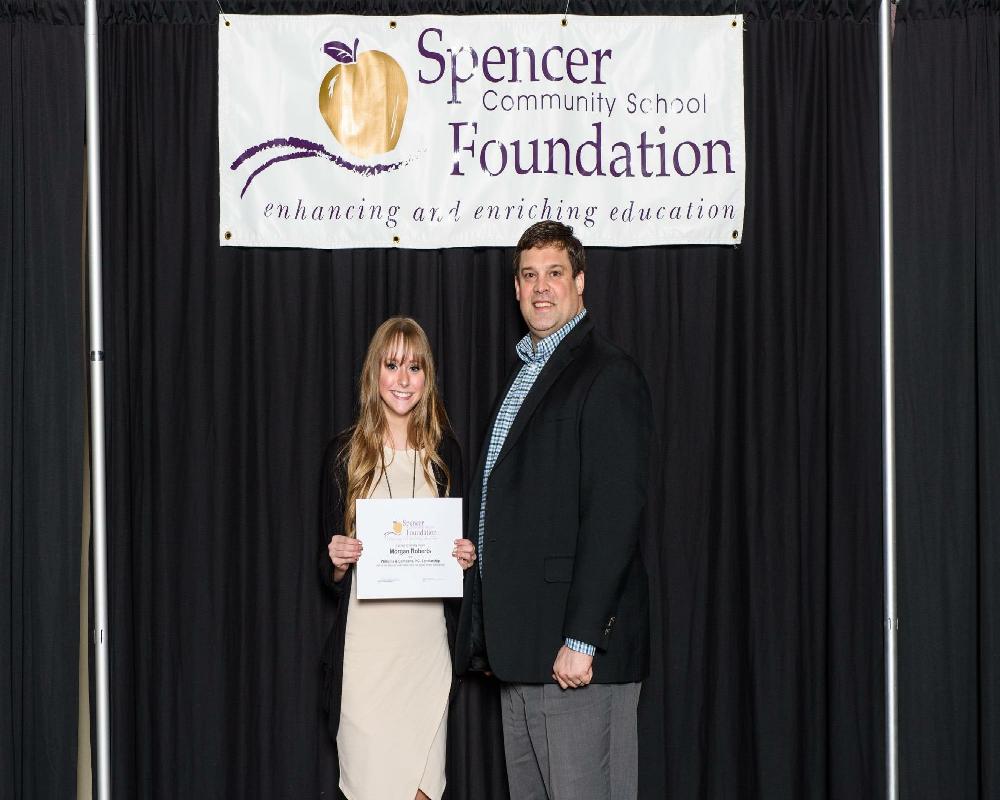 Williams & Company's Spencer office had four employees take some time out our busy tax season to donate blood to the American Red Cross. Pictured Left and clockwise: Sherry Titterington, Wes Simpson, Jen Miller and Sara Fechter.
Natalie Gubbels received the Volunteer of the Month award from United Way of Greater Yankton. She is now part of a special group of people that have been recognized in the Yankton community for all the tremendous work they do helping others in need. Natalie has been instrumental in helping the "LINC" group (UW's special group of volunteers under age 30) grow and take on community challenges. She is always there to help wherever and whenever with a cheerful disposition
Great job Natalie!
Spencer High School started an initiative to give all Junior and Senior boys a neck tie, donated from the community, and general professionalism skills such as handshakes, introductions and networking. Larry Harden from our Spencer office gave a hands on lesson to his group of students.
Dan Dekker, Manager in our Spencer, Iowa office, addressed 180 graduating 5th grade DARE students and their families on March 30, 2017. He reflected upon his DARE experience and discussed how their choices going forward will impact their lives.
Natalie Gubbels, staff accountant in our Yankton office, was recently featured as one of Greater Yankton Living's 31 under 31. The Greater Yankton Living organization chose 31 individuals under the age of 31 to be featured as part of their campaign promoting the benefits of living in the Yankton area.
Auditors Atalie Simpson and Alex Keller from our Onawa office have given back to our many Nursing Homes clients by donating totes filled with Bingo prizes for their residents. This is the second year that the Onawa office employees have filled totes with everything from candy to lotion to playing cards. Our clients are very grateful for the donation.
Dave Radke, Managing Sharehholder, Onawa, IA stopped by a bulk food store to pick up a cart full of non-perishable food for the Food for Backpacks program in Onawa and Whiting. 600 bags a month (150 a week) are filled and distributed to students who rely on the school breakfast and lunch programs for nutrition and otherwise don't have much to eat on the weekends. The program is funded and bags filled entirely by tireless volunteers. They were excited to have the unexpected donations delivered!
Spencer Adopts Family - Williams & Company in Spencer is getting in the Christmas spirit. They participated in the Adopt A Family program again this year. A family was selected with five children between 2 and 9 years old.
LeMars Back Pack Program - The LeMars staff was able to take a quick break from audit season and help out the Le Mars Back Pack Program by packing their weekly food bags for distribution to about 425 children throughout Le Mars. It was a great opportunity for 12 members of our team to be able to give back to the community as well as provide some good team building time away from debits and credits. Click here for more event pictures.
Nutty Bars in Spencer - The Spencer staff volunteers every year at the Clay County Fair, AKA "The World's Greatest County Fair." Some worked a shift at multiple stands selling Nutty Bars, drinks, candy and popcorn with proceeds supporting youth programing for the Spencer YMCA while others parked cars for Sacred Heart School which is located next to the fairgrounds offering fair goers prime parking for fair events. Click here for more event pictures.